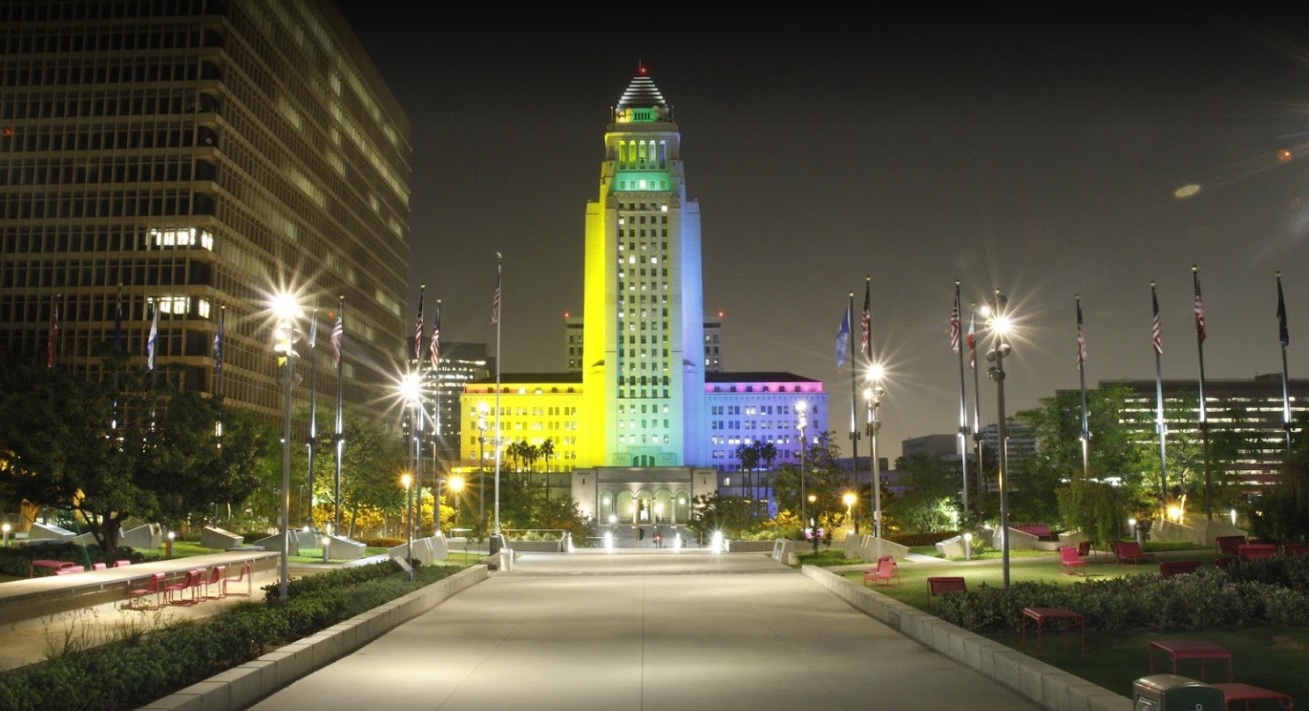 LAFACE Objectives

To extend assistance to any organization in promoting the economic, social, cultural, and educational advancement of Filipinos in the community.

To foster the advancement of Filipinos and other minorities in City service and in other fields and shall cooperate with other minority groups towards achieving this goal.

To view details, click this link: LAFACE Statement of Policies and Objectives
Please always check our Announcements Page if we have something NEW to share...
  Watch Mayor Eric Garcetti's greeting to FAHM!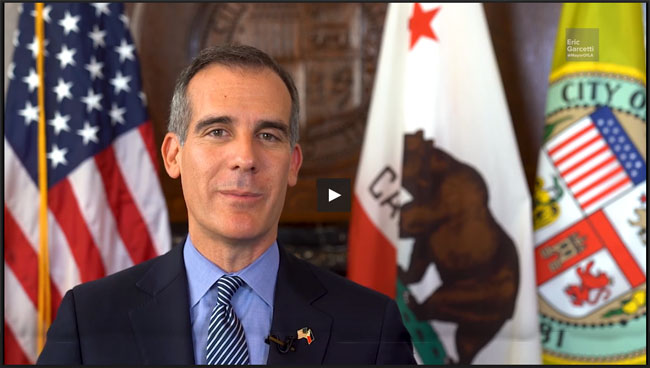 Dear LAFACE members, friends and supporters
Below is LAFACE's upcoming events and announcements.*
Generously share far and wide to your City friends and families.
 *Save these dates. RSVP  asap where available.  Though we try our best to schedule, events may be cancelled or postponed due to extenuating circumstances.  
For LAFACE Benefits and Membership, please click here and submit asap to avail of the seminars and events. 

 
FEBRUARY 2021
Announcement of the OPENING OF LAFACE 2021 SCHOLARSHIP APPLICATION (

$500 grant awards

 for eligible High School, College and/or Community Service recipients)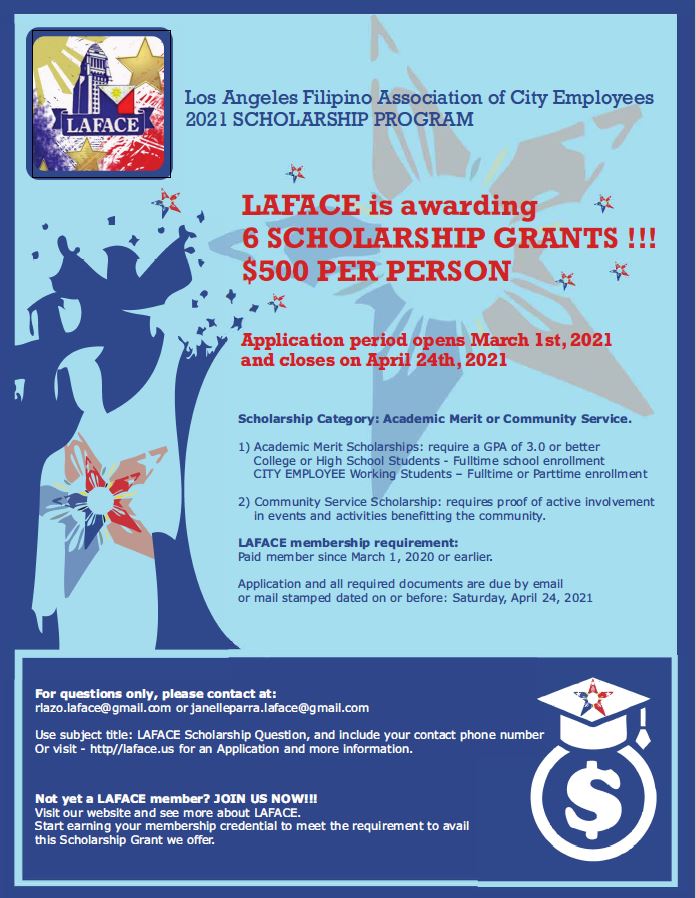 LAFACE Pensioners and Mentors Program - 

SIP Continuing Outreach 
March 20, 2021 (tentative) - Sr Management Analyst Exam Preparation Seminar
APRIL 2021
Successful Job Interviews refresher training - Tentative
April 24 - Scholarship Application CLOSES
MAY 2021
May 6, 11:15 to 1 p.m. - Dealing with Difficult People Seminar
LAFACE General Membership PICNIC and Meeting - Tentative
JUNE 2021
June 9 - City/Council Acknowledgement Celebration of Philippine Independence Day
June 11 - Announcement of Scholarship WINNERS
June 12 - Philippine Independence Day
JULY 2021
Admin Clerk Exam Preparation Seminar
Management Assistant 

Exam Preparation Seminar

It is with great sorrow that we share the passing of our dear friend, leader, long-time Filipino organizer and advocate, and former LAFACE President
RUBY de VERA
last January 31, 2021. Ruby was a shining example of courage, a role model And Filipino champion both in the City and out in the community.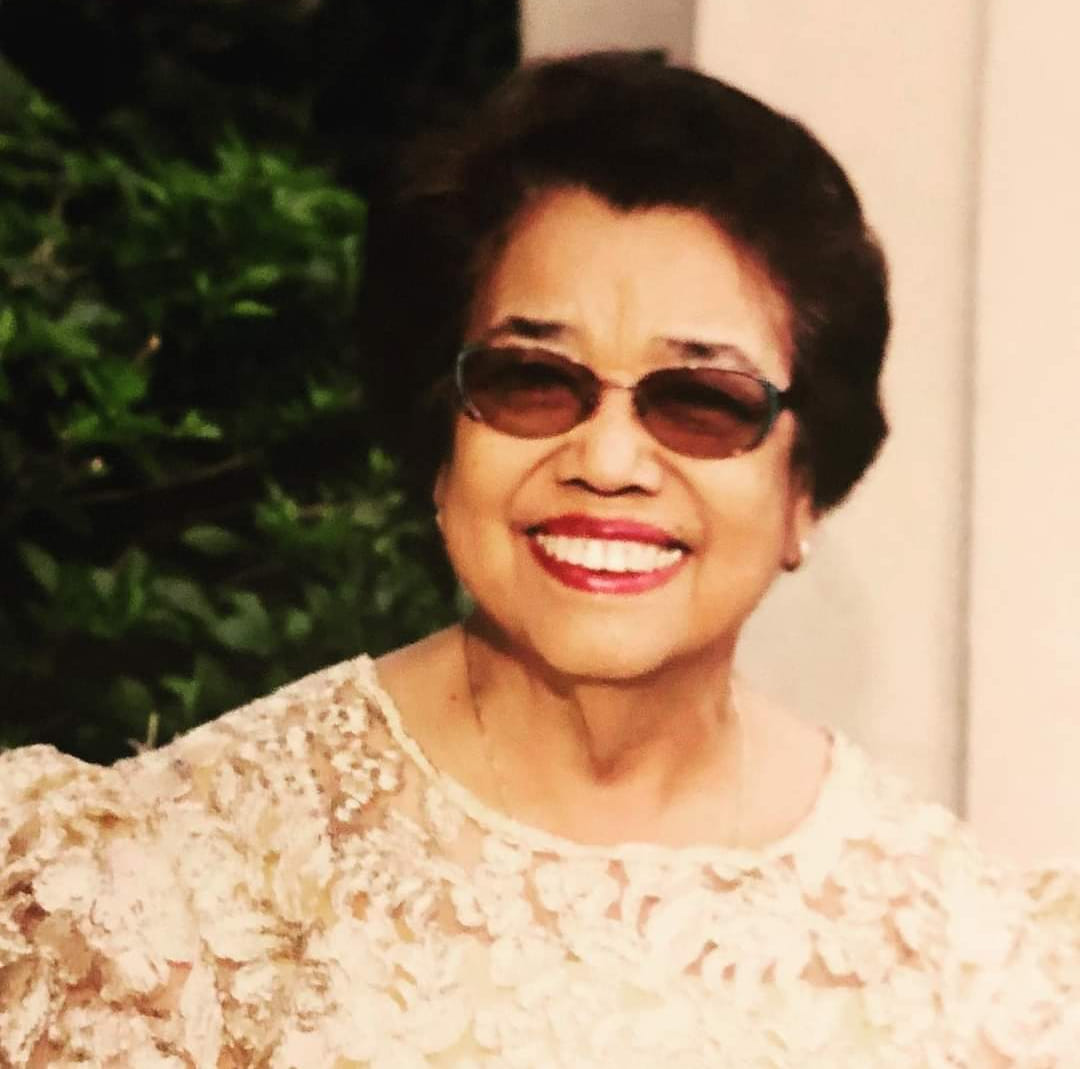 We will continue to shine Ruby's light by carrying her legacy with us in our own lives and activities.
In last Wednesday's council session, February 3, 2021, Council Members Kevin de Leon, Gil Cedillo and Monica Rodriguez adjourned the meeting in memory of Ruby De Vera. We may be able to share the adjourning motion as it becomes available and any information based on the family's wishes. Her family will receive a certificate from the city clerk's office.
Please include her in your thoughts and prayers.
LAFACE Board

Dear Member,
A call for more Filipinos to join marrow donor program. Despite more than 20 million people on the Be The Match® registry, only 5 percent are Asian and .4 percent are Filipino.
Hi there! I am sure most of you have heard that Freddie was recently diagnosed with leukemia. He is currently undergoing chemotherapy and his doctors have recommended a blood stem cell transplant to cure him. Freddie has no living siblings and no one in our family was a perfect match, so they are searching the Be the Match Registry for an unrelated donor. Please click on the link http://join.bethematch.org/stemsforfjv or text STEMFORFJV to 61474 to see if you are a match for him or any patient. It takes less than 10 minutes and a simple cheek swab to see if you are a match. Donors must be between 18-44 years old, in general good health and be willing to donate to any patient. You could be the one! If you have any questions, please contact our coordinator, Joyce Valdez at This email address is being protected from spambots. You need JavaScript enabled to view it.. 
Thank you. 
The Verzosa Family
#stemforfjv #bethematch #payitforward #needyourhelp