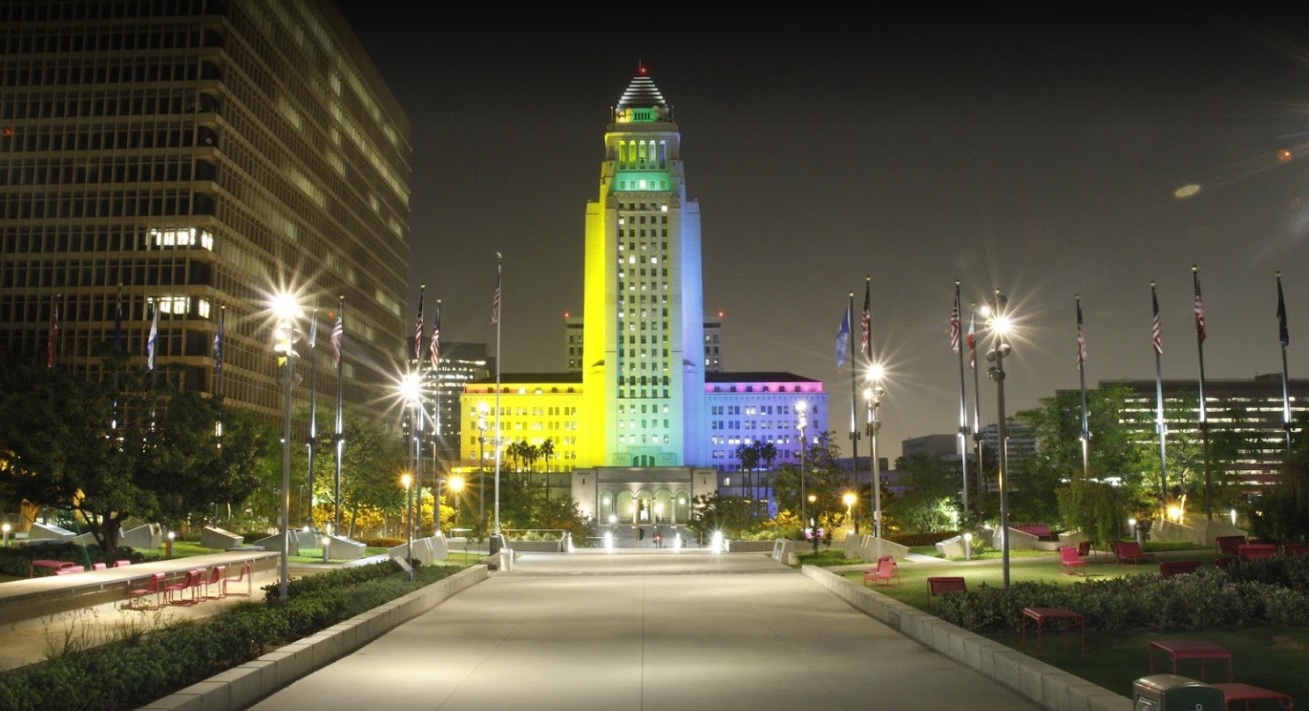 Dear Member,
A call for more Filipinos to join marrow donor program. Despite more than 20 million people on the Be The Match® registry, only 5 percent are Asian and .4 percent are Filipino.
Hi there! I am sure most of you have heard that Freddie was recently diagnosed with leukemia. He is currently undergoing chemotherapy and his doctors have recommended a blood stem cell transplant to cure him. Freddie has no living siblings and no one in our family was a perfect match, so they are searching the Be the Match Registry for an unrelated donor. Please click on the link http://join.bethematch.org/stemsforfjv or text STEMFORFJV to 61474 to see if you are a match for him or any patient. It takes less than 10 minutes and a simple cheek swab to see if you are a match. Donors must be between 18-44 years old, in general good health and be willing to donate to any patient. You could be the one! If you have any questions, please contact our coordinator, Joyce Valdez at This email address is being protected from spambots. You need JavaScript enabled to view it.. 
Thank you. 
The Verzosa Family
#stemforfjv #bethematch #payitforward #needyourhelp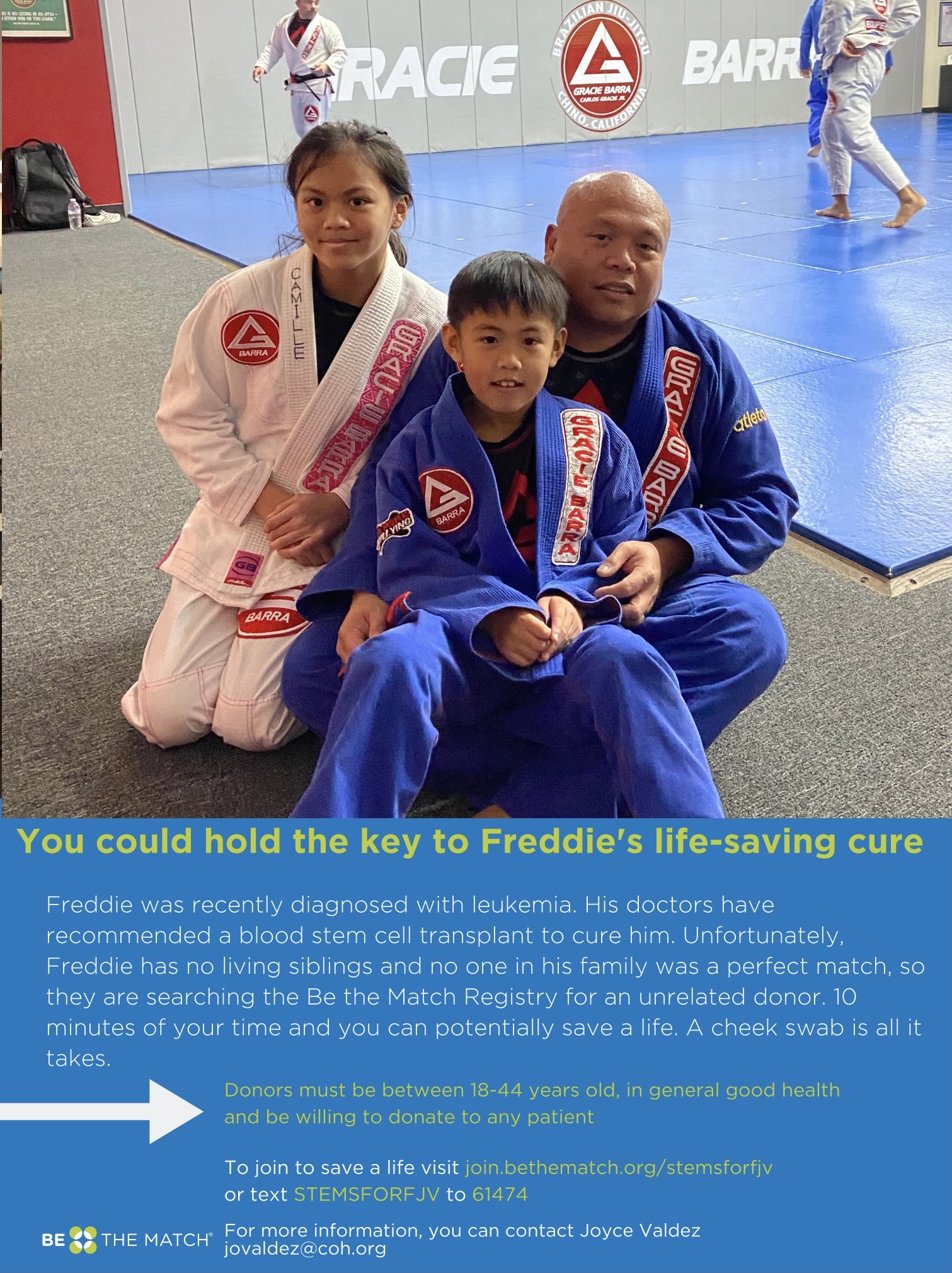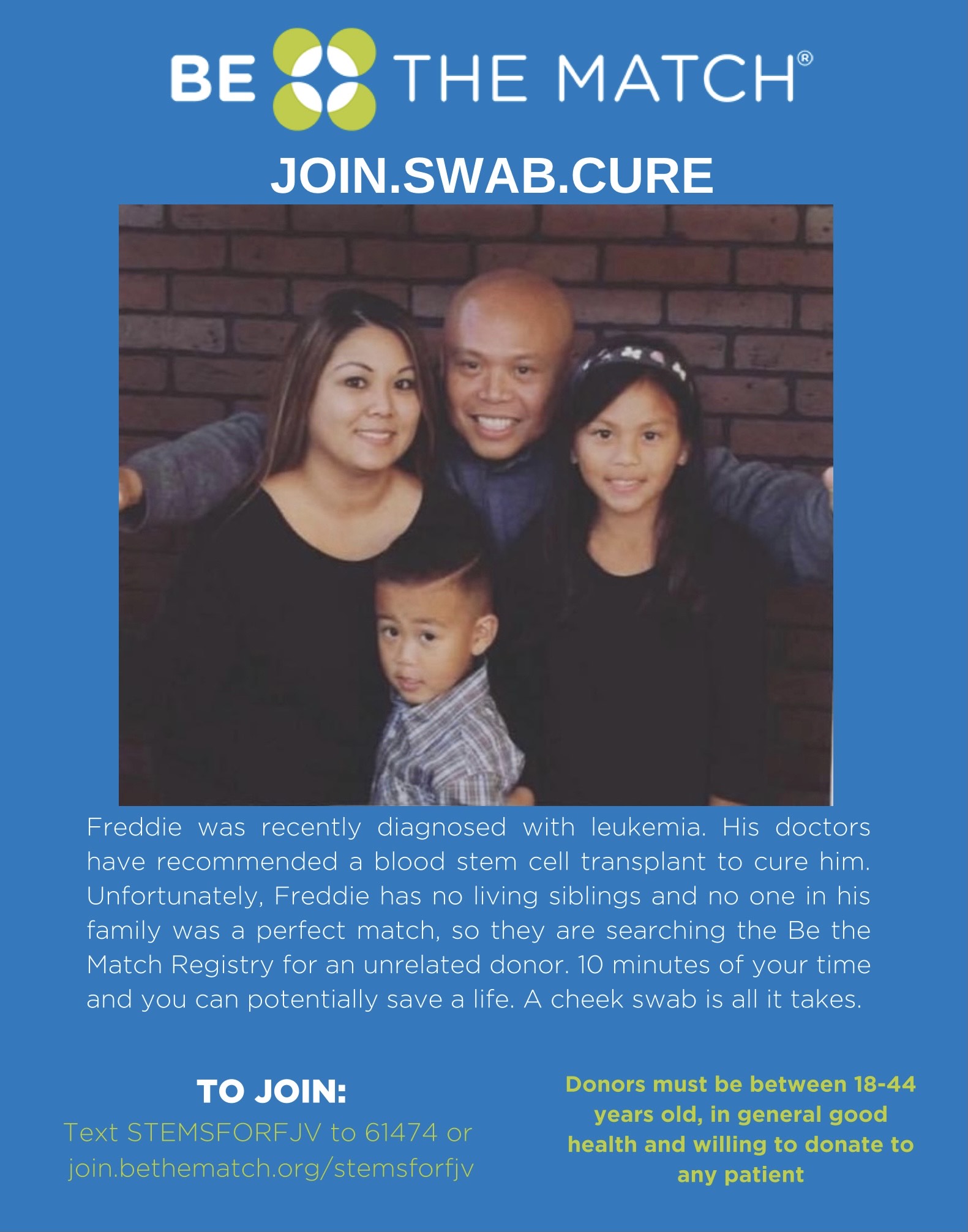 Dear Sir / Madam,
The Philippine Consulate General provides you a copy of the attached Public Announcement, informing Filipinos and Filipino-Americans residing in Southern California, Southern Nevada, and the State of Arizona, that the Consulate General will temporarily suspend its consular services starting Thursday, 19 March 2020, until further notice.
For emergencies, the Consulate General may be reached through the following contact details:
Travel Document: emergencyTD@philippineconsulatela.org
Assistance to Nationals: 

This email address is being protected from spambots. You need JavaScript enabled to view it.


Overseas Workers: 

This email address is being protected from spambots. You need JavaScript enabled to view it.


Inquiries: https://www.philippineconsulatela.org/contact-us-2
Hotline numbers: (213) 268-9990; (213) 269-7852
Assistance-to-Nationals: (213) 587-0758

For COVID-19 related Advisories, please access the following reliable links:
Philippine Consulate General in Los Angeles:
https://www.philippineconsulatela.org/advisory-on-the-2019-novel-corona-virus

Philippine Department of Foreign Affairs:  https://www.dfa.gov.ph/covid-19-advisories

U.S. State Department: https://travel.state.gov/content/travel/en/traveladvisories/COVID-19-Country-Specific-Information.html

U.S. CDC: https://www.cdc.gov/coronavirus/2019-ncov/travelers/index.html

The Consulate General strongly advises everyone to follow the guidelines issued by the U.S. government on preventing infection of the novel coronavirus.

We will appreciate it if you could forward this email and its attachment to your own network.

Thank you and stay safe.


Sincerely,

The Philippine Consulate General in LOS ANGELES


Philippine Consulate General
3435 Wilshire Blvd., Ste 550
Los Angeles, CA  90010
Tel. (213) 639-0980/ Fax (213) 639-0990
Website: www.philippineconsulatela.org
Passport - 

This email address is being protected from spambots. You need JavaScript enabled to view it.


Visa - 

This email address is being protected from spambots. You need JavaScript enabled to view it.


Dual Citizenship - 

This email address is being protected from spambots. You need JavaScript enabled to view it.


Registry - 

This email address is being protected from spambots. You need JavaScript enabled to view it.


Legal/Notarials - notarials_pcgenla@earthlink.net
--

Best regards,
Joan Alexandria S. Tagle, President
LAFACE
Yours in service,
LAFACE Board Officers

Dear LAFACE Family,
Take two on the RSVP! ✌️
LAFACE Management Analyst Exam Preparation Training
Saturday, November 9, 2019 from 8:00am-5:00pm (Registration 8:00-8:25am)
City Hall East, Conference Room 351 (200 N Main Street, 3rd Floor, Los Angeles 90012)
Step 1: RSVP is now CLOSED 
https://forms.gle/n7u4MjCEM7WsVLbM7
Step 2: Register on Eventbrite for a ticket if you are attending (Print your ticket/show on mobile app to facilitate registration 😊):
https://www.eventbrite.com/e/laface-management-analyst-training-tickets-80394880251   
Questions: This email address is being protected from spambots. You need JavaScript enabled to view it.
Booklet requests (for payment and pick up after Sat. 11/9): This email address is being protected from spambots. You need JavaScript enabled to view it.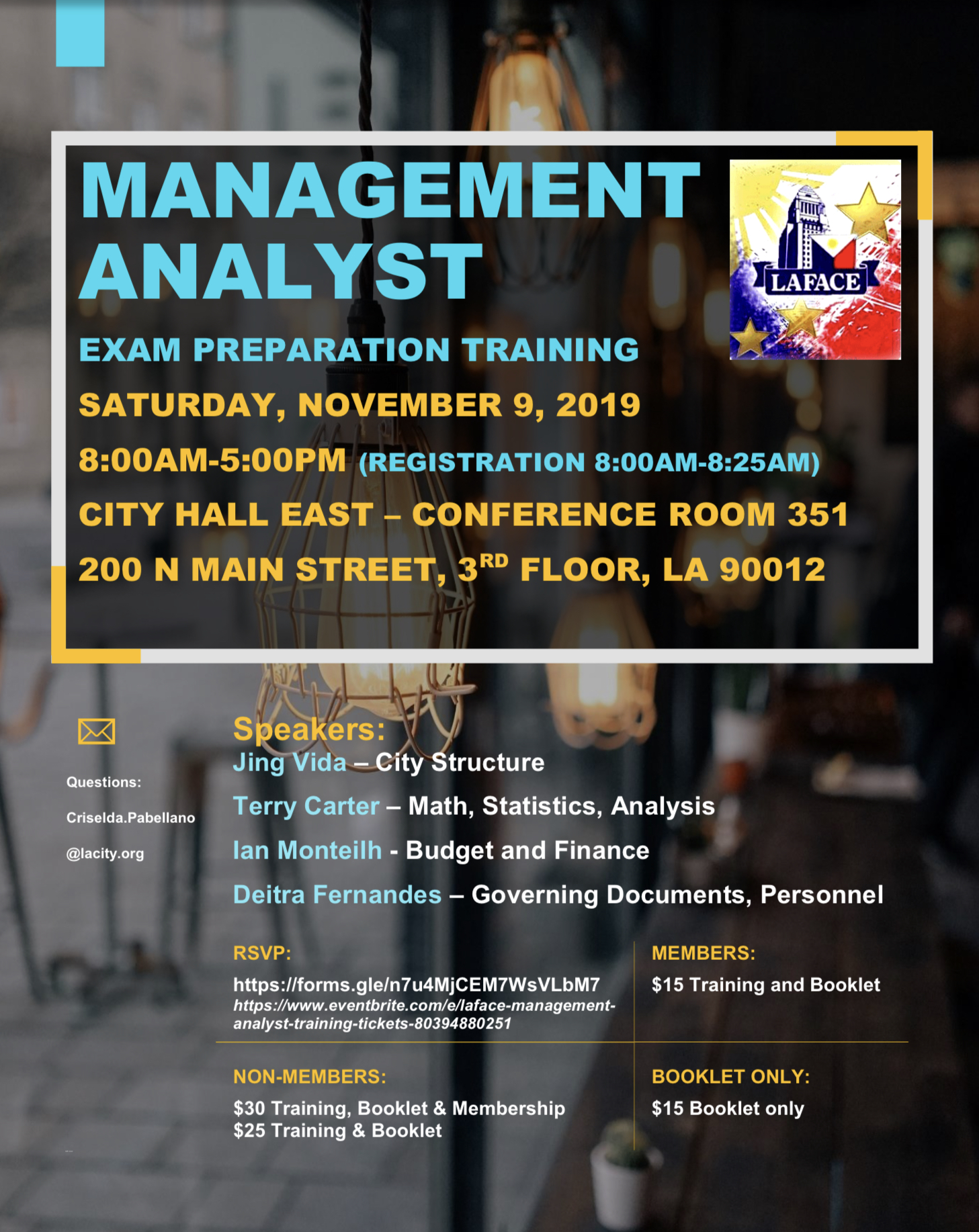 Training costs reflect increased printing costs. Still a comparatively small investment into your future promotion!
To facilitate registration, please make sure to bring exact change or use a check. 😊
We wish you the best in your study and preparation!
The more knowledgeable you are, the better you can serve Angelenos.
Your success is the City's success.
Yours in service,
The LAFACE Board Officers