Dear LAFACE family and friends,
In its steadfast show of support, the City Council, led by CD 13 Councilmember Mitch O' Farrell presented a resolution for the 2021 October Filipino American History Month, together with CD 14 Councilmember Kevin De Leon and CD 1 Councilmember Gil Cedillo on Tuesday, October 19, 2021.
On behalf of LAFACE President Jing Vida, our Board officers and all our members, Vice-President Janelle Parra acknowledged and honored the event with heartfelt remarks about the occasion, the 50th anniversary of the beginning of the Filipino American movement, the former LAFACE President Ruby De Vera, who passed away Jan. 31, 2021, and the frontline nurses who continue to brave the Covid-19 pandemic's devastation and save many lives.  
PWB Commissioner Jessica Caloza and DWP Board VP Commissioner Susana Reyes were in attendance.  Watch the Council presentation and click forward to 2:02:30 for Janelle's remarks.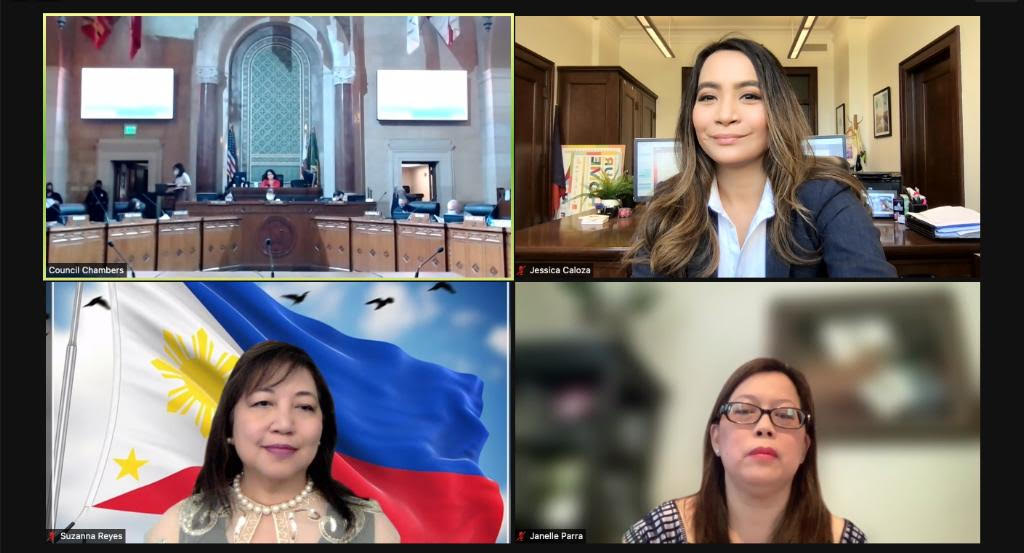 To honor Ruby de Vera, CD 14 will dedicate Caspar and Merton Streets in Eagle Rock as Ruby De Vera Square. on Friday, October 29, 2021, 8 - 9 a.m.  Please join former Commissioner Theresa De Vera, daughter of Ruby in this dedication.  https://m.facebook.com/events/s/ruby-de-vera-square/915154452744958/
Prepared remarks below (In the actual live remarks, Ruby De Vera and the nurses were honored in conjunction with the Council members' presentations). 
Good morning Honorable Council members, Public Works Board Commissioner Caloza, DWP Board Vice President Commissioner Reyes and distinguished guests. My Name is Janelle Parra, Vice President of LAFACE, the Los Angeles Filipino Association of City Employees.
I would like to thank the Council for commemorating the 2021 Filipino American History Month, as nationally recognized by the 111th US Congress. 
People have marked this occasion as a Heritage Month but it is History month.  Heritage is to celebrate the cultural traditions handed down to us by our ancestors. History is about the events and the people who paved the way for all of us, impacting our lives mostly for the better.  Civil rights leaders, revolutionary and pioneering leaders made history.
As stated in the resolution and in the remarks today, 50 years ago marked the beginning of the Filipino American movement.
For over 50 years, Filipino American YOUNG organizers, from Los Angeles to New York, formed hundreds of groups all over the country to sustain the FIGHT for WHAT IS RIGHT.
We at LAFACE, PROUDLY HONOR all those who made history, like Farmworker Rights Leader LARRY ITLIONG during the 1960s and today in 2021, the FIRST Olympic Gold Medalist and weightlifter Hidilyn Diaz, and Journalist Maria Ressa, the first Filipino-American to WIN the NOBEL Peace Prize.
They pushed the limits. They inspire. LAFACE honors all the courageous people who make this world a better place and those following their footsteps to MAKE HISTORY.
On behalf of Jing Vida, LAFACE president, our Board officers and the 4,000 Filipinos serving the City, I thank Mayor Garcetti and the Council, especially CD 13 Council member Mitch O'Farrell, Special Council Aide William Ayala, CD 1 Council member Cedillo, and Communications Director Conrado Terrazas Cross, and CD14 Council Member Kevin De Leon for recognizing the 2021 FilAm History Month and our community. MABUHAY! Maraming Salamat.
Dedicated to the advancement of City Employees 
since 1982